AURORA | The city's fallen military servicemen and women will be honored Monday at a Memorial Day Commemoration hosted by the Aurora Veterans' Affairs Commission.

The 3rd annual event will begin at 11:30 a.m. May 31 at the east side of the Aurora Municipal Center building, 15151 E. Alameda Parkway.

The ceremony, which is expected to attract more than 100 people, will encourage residents to remember those who have sacrificed their lives in wars, said Greg Echols, chairman of the Aurora Veterans' Affairs Commission.

"It's an obligation to those of us who are living to honor the people who gave their lives so we can live in a free society," Echols said. "It's good that we are living and we have survived, but we do so because many have perished."

Aurora City Council members and Veterans' Affairs commissioners will speak at the ceremony. City officials will raise the "prisoners of war/missing in action" flag, and local singer and songwriter

Terry Runyan

will perform his song, "Lay Your Gun Down," at the ceremony. The United States Air Force's F-16 fighter jets will fly over the crowd in honor of the soldiers.

The first commemoration ceremony was held in 2008 when former U.S. Marine Paula Sarlls decided the city should have a special event honoring those who have served in Aurora's several military installations including Buckley Air Force Base and the former Fitzsimons Army Base.

Thousands of veterans live within city limits making the event is particularly significant, said Barbara Shannon-Banister, the city's Veterans' Affairs Commission liaison.

"That's a pretty big chunk of people, and we should be grateful to them with regard to the freedoms we have," said Shannon-Banister, who is also chief of the city's Community Relations Division.

"It's appropriate that at least one time a year, we honor those who have fallen, and give respect to those who are still here."




Aurora veterans committee planning Memorial Day commemoration
By SARA CASTELLANOS
The Aurora Sentinel


Published: Thursday, May 27, 2010 1:17 PM MDT





Gals Glitter In Silver & Gold
Published: Wednesday July 21, 2010 4:23 PM MDT
Promotional campaigns contribute towards the success of a product or service. By engaging with the right people at the right time, a company (
or in this case, a band
) can achieve positive results which in turn can lead to brand success. One would however, need the most appropriate profile of promotional staff in order to achieve this. At Elle'ovations, they are providing just that.
EXIT 2 has contracted with local management company Elle'ovations Marketing Group in obtaining a specific team of ladies to assist in promoting the band's image. Dubbed the "Silver & Gold" Team, Elle'ovations CEO S. Adrienne states, "This exceptional group of ladies is gonna be the next best thing. They [Silver & Gold] will be the Coors Light or Bud Light girls of our local music scene here in Denver. They're beautiful, highly intelligent, and are certain to make a positive impact within our community."
The ladies of Silver & Gold are definitely on the right track with planned visits to Children's Hospital of Denver and involvement with various walk-a-thons and charity events this fall.


HIGHLANDS RANCH: Fujiyama Sushi & Hibachi in Highlands Ranch, has expanded their "Happy Hour" ad campaign to feature EXIT 2 singer and songwriter, Terry Runyan. Restaurant owner, Al Liu turned to Elle'ovations Marketing Group for assistance with casting "extras" for an all day photo shoot, complete with specialty drinks and hibachi steak and lobster meal.

Sure to entertain anyone seeking a unique dining experience where the food is prepared right before your eyes on any one of the eight teppanyaki grills, Fujiyama Sushi & Hibachi is fast becoming the areas' best place to go. The restaurant even features two private party rooms, perfect for corporate functions!

Fujiyama is located at 1100 Sgt Jon Stiles Drive #106 (Town Center North) in the Target shopping center. www.fujiyamaco.com


Restaurant Features EXIT 2 Singer In Advertisements
Published: Friday, December 17, 2010 3:32 PM MDT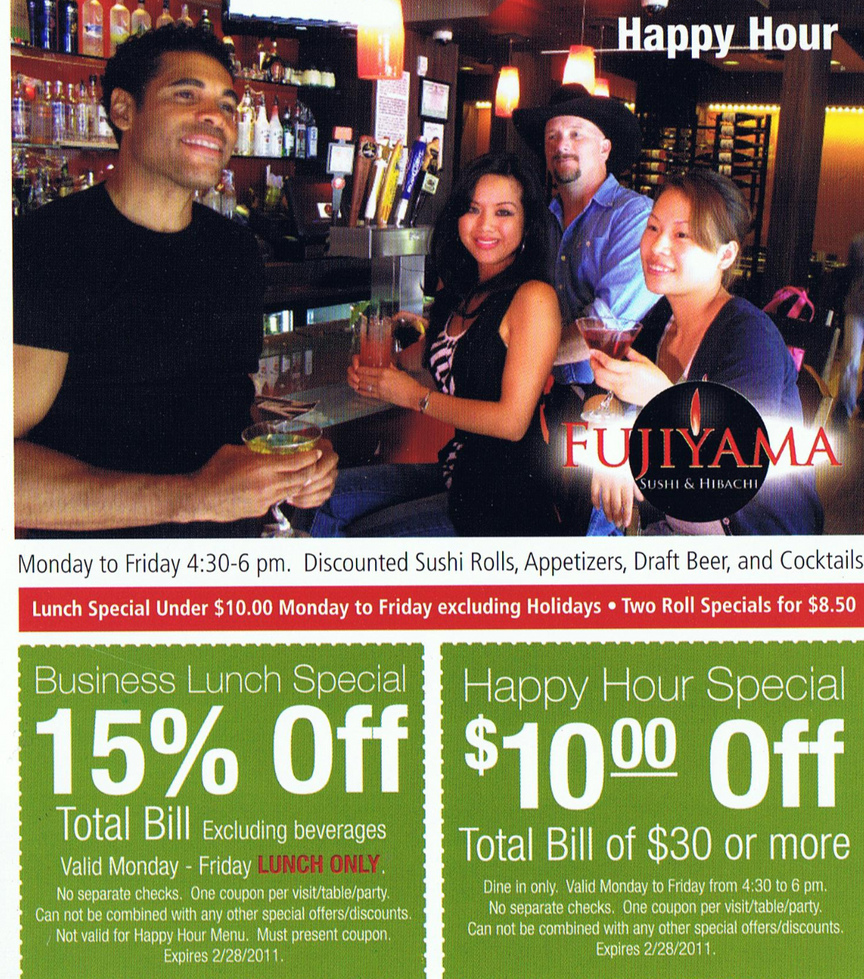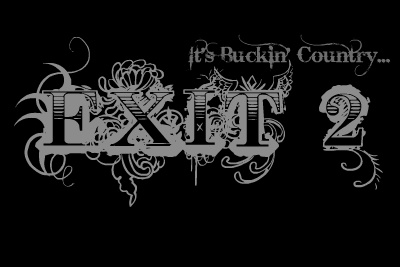 Give in 10 to Aid Local Veterans
Published: Sunday December 10, 2011 6:08pm MDT
Elle'ovations Marketing Group
AURORA: Chartered by EXIT 2's Silver & Gold dance team, the ladies are reaching out to local merchants within the community for help.
"The idea is to get each person to obtain just ten items to collect and give to our local veterans home. Items most needed include toothbrushes, toothpaste, scarves, hats, and jackets. The possibilities are endless!"
Once collected, all items are turned over to the Aurora Veterans' Affairs Commission. Several members will then take the items to the local veterans home, where former U.S. soldiers live as they work towards transitioning from life on the streets to acquiring employment.

Phase two will include hosting a local, live benefit concert where EXIT 2 will perform in conjunction with another local band. The event will take place in the Spring of 2012 and is open to the public. Patrons may pay the $5.00 cover charge at the door or opt to donate ten items.


Exit 2 is a Denver-based country band with a collection of talented characters. Touted as a band playing buckin' country, this group runs the gamut of rockin' country and ballads.

On Friday night at Jammin' Joes in Arvada, this team brought their A-game. Starting off with some of the high-speed and heavy hitting, Exit 2 rocked through their opener, Jason Aldean's Hicktown. Then they cruised through Dwight Yoakam's Little Sister.

Terry Runyan (lead vocals & acoustic guitar), is a humble baratone that has a powerful voice and an incredible capacity to write expressive lyrics. Sean Menard (drums), can beat the drums flawlessly and keeps the tempo pumping on the faster songs and supports more subtly on the slower tunes. Charlie Provenza (lead guitar), is an acclaimed musician that shines with his strong guitar-playing skills and his ability to connect with fans with his quick fingers and beaming smile. Chad Parsons (bass guitar), is a fierce talent that exceptionally plays the slower-tempo songs and can increase the intensity on the more rocking songs. John Parrott (fiddle & vocals), shows off his skills on every song and really glows when the band plays the fiddle-heavy song, Devil Went Down to Georgia.

Exit 2 skilfully mixes covers including, Boots On, Big Green Tractor, T-R-O-U-B-L-E, Waiting on a Woman, Am I the Only One, Hillbilly Deluxe, Copperhead Road, and originals including, Lay Your Gun Down, Havin' a Good Time, and Wine From a Box. Exit 2 is a good-time band that thoroughly brings the party to the stage. Playing 4 long sets gave the line-dancers an adequate workout and gave couples ample opportunity to get a little closer on the big dance floor.
EXIT 2 at Jammin' Joes in Arvada
By: ALAN SPARRY Mile High Feedback

Published: April 2, 2012 12:44 PM MDT
http://milehighfeedback.blog.com/2012/04/02/exit-2-at-joes-in-arvada/

***********


Reader Response:



Jennifer L.
April 3, 2012 at 6:36 pm

I was there! They rocked the house down! Music had everyone jumping out of their seats and dancing!